14:15 15.07.2016 | CBM Team | Project: My need my decision
CBM organized the Closing Conference of the project "Civil Society is watching you: demand for accountability and transparency on local level''
---
---
Community Building Mitrovica (CBM) & Center for Resources Youth and Media (CRYM), organized today the closing conference of the project "Civil Society is watching you: demand for accountability and transparency on local level''. In this event participated Mr. Libor Chlad – Deputy Head of Cooperation Sector EU Office in Kosovo, Ms. Anika Snel – General and Political Advisor at the Embassy of the Kingdom of the Netherlands in Kosovo, vice-Mayor of Mitrovica South Municipality Mr.Safet Kamberi, and other high representatives of high local institutions from the seven Municipalities that were monitored in the framework of this project.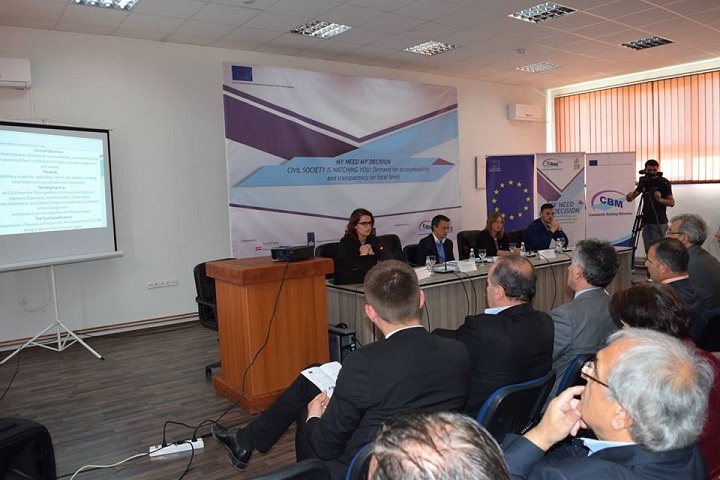 ''The main achievements of the project during these two years were: increase the capacities of local CSOs' on lobbying, advocacy and monitoring local institutions; the establishment of Mitrovica Region Monitoring Team; raised awareness of citizens for accountability through monitoring'' – said Ms. Florentina Hajdari Hajra, program manager in CBM. In his word representative of EU Office in Kosovo Mr.Chlad noted the fact that this project contributed at the reinforcement of NGO capacities to monitor local institutions and encouraged public debate. While Ms. Snel from the Netherlands Embassy in Kosovo mentioned CBM as one of the most reliable partners of this Embassy, that as she said with its projects always aims to improve the lives of citizens in Mitrovica Region and wider. After the presentation of the results of the project, guests had the chance to get to know more closely the grantees, while a mini-fair was also organized where the NGOs part of this project had the chance to present their work.
The aim of the project was to contribute towards increase of responsiveness, accountability and transparency of local institutions through active participation of civil society through establishment of the 'watchdog' role of civil society in order to hold local institutions accountable and transparent. Target group of this project were all CSOs, from the Municipalities of Mitrovica North/South, Leposaviq/Leposavic, Vushtrri/Vucitrn, Zubin Potok/Zubin Potok, Skenderaj/Srbica and Zveqan/Zvecan, characterized by different ethnic background. The final beneficiaries of the projects are inhabitants of Kosovo and especially the population of 276.288 living in the Mitrovica region.
"Civil Society is watching you: demand for accountability and transparency on local level'' was funded by the European Union Office in Kosovo and co-financed by the Austria Development Agency, Royal Embassy of Netherlands and Mott foundation.
Find the photos of this event in the following link: https://goo.gl/qrK9eT