13:54 02.09.2016 | CBM Team | Project: Youth
CBM is currently recruiting students for the English ACCESS Microscholarship Program in Mitrovica Region
---
---
The U.S. Embassy in Kosovo and CBM are excited to announce a great opportunity for 19 to 25 year-olds to receive educational scholarship to learn English through a two-year program called the English Access Scholarship Program (Access Program) funded by the U.S. Department of State.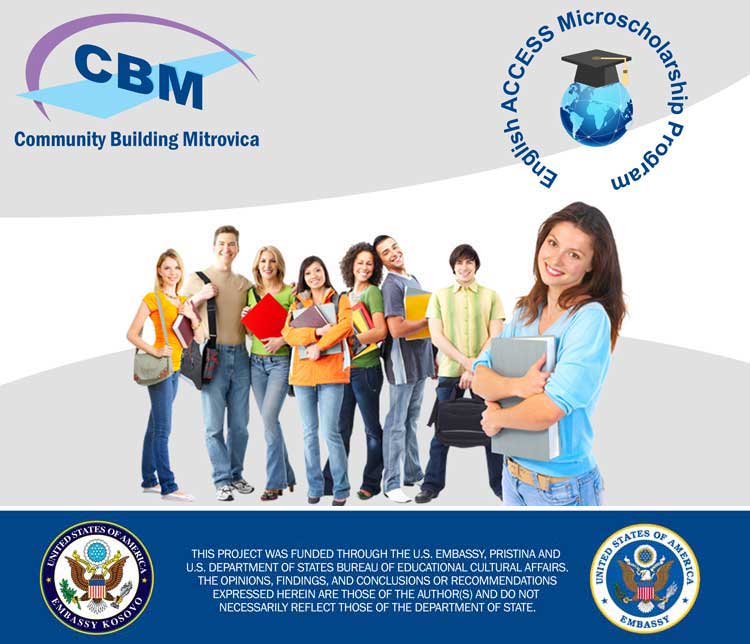 The Access Program provides an opportunity for students in Kosovo to learn about U.S. culture and values, deepen their knowledge of the English language, and take an active part in the development of their communities.
The Access program includes:
English language classes twice a week for two hours per day.
Informatics and IT classes once a week for one hour
Sessions with interactive and hands-on opportunities for students to engage in discussions, community service, and other activities on topics related to American history, democracy, culture and values, education, gender issues, ethnic tolerance, civil society, the environment and others
Sessions with guest speakers from the U.S. Embassy, local NGOs and private sector
Sessions led by native English Language speakers
Personal development sessions and activities, including professional development workshops
Organized community activities
The Access program pays for the student's tuition, books, and transportation costs.
CBM is currently recruiting students from Mitrovica North/South, Leposavic, Skenderaj, Vushtrri, Zvecan and ZubinPotok.
The period of the program is from October, 2016 – October, 2018. Classes in Mitrovica will begin in October 2016 and will be conducted in two locations, Mitrovica South and Mitrovica North.
Application Requirements:
Students must have basic level of English language skills, as the classes will begin from Pre-Intermediate level
Students must be between the ages of 19 and 25 at the time of application
To apply, complete and submit an application form at CBM office or via e-mail at info@cbmitrovica.org. Application forms can be obtained from CBM office or can be sent via e-mail upon request.
Application deadline is over.