11:41 06.06.2017 | CBM Team | Project: Youth
CBM HOSTS EXCHANGE PROGRAM STUDENTS
---
---
On June 6th, a group of 18 students from three universities visited Community Building Mitrovica. The students were in Kosovo to carry out a study program organized by University of Applied Sciences Kehl in Germany, the University of Pristina in Kosovo and the University of Osijek in Croatia. Therefore they visited the CBM as part of their study visit agenda.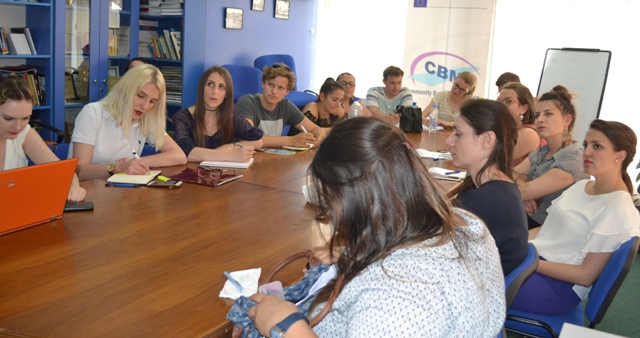 The group was greeted by CBM representatives, Nemanja Nestorovic and Milivoje Raicevic. Further the students were presented with the CBM's work, whilst they were in particular interested in the youth projects and the perceptions of young people from Mitrovica South and North for one another. In addition the students also asked several questions about the upcoming elections and their possible impact in the CBM's daily work.
The presentation by the CBM's representatives was very helpful for the group to enhance their understanding upon the overall situation in Mitrovica, and the work of CBM in such setting.