22:10 09.12.2016 | CBM Team | Project: Media
CBM AND PARTNERS MARK THE INTERNATIONAL ANTI-CORRUPTION DAY
---
---
Observed all around the globe, the International Anti-Corruption Day was also marked in Kosovo with a symbolic street action co-organized by Community Building Mitrovica with its partners Ngo Aktiv, Youth Initiative for Human Rights - Kosovo and National Center for State Courts (NCSC).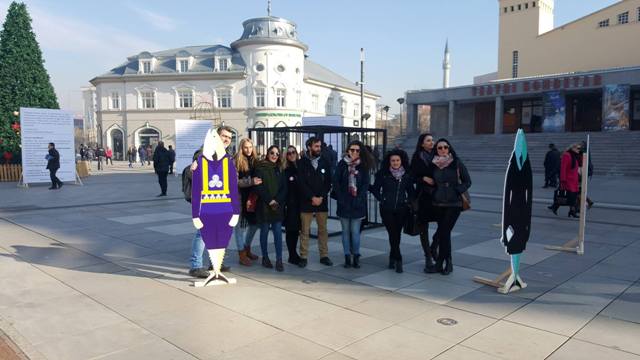 This activity consisted on the imposition of boards that contained declarations of Kosovo high level officials regarding the prevention of corruption, and an empty cage in the form of cube that represented the destination for the people involved into corruptive affairs. Corruption is a serious threat that undermines social and economic development in all societies, and this action conducted today aimed to raise the public awareness on taking action against this negative phenomenon in Kosovo.
International Anti-Corruption Day has been observed annually, on 9 December, since the passage of the United Nations Convention Against Corruption on 31 October 2003.
Following the street action, the Kosovo Bar Association Oda (KBA) in cooperation with the Demand for Justice Program (D4J), funded by the U.S. Department of State/INL, organized the the Central Bench Bar for the year 2016. After the initial presentation of the main issues of Bench-Bars throughout 2016, a debate regarding access to justice and accountability in this sector took place.
Demand for Justice Program will expand community-based information resources to inform citizens of rights and mechanisms to activate them, to counter corruption and to hold justice actors accountable. Community Building Mitrovica is one of the civil society organizations included in the implementation of the D4J program.